Trek to Prabalgad | Monsoon Trek
It all started with a plan for a team building session at the office with the locations to be considered were a lunch, party or a trek, after a few days it was decided to go for a trek to Prabalgad. Kalavantin was not selected as there were many first timers and Kalavantin was riskier in the rainy season. Prabalgad is located near Panvel in Mumbai and it is at a height of 2500 feet.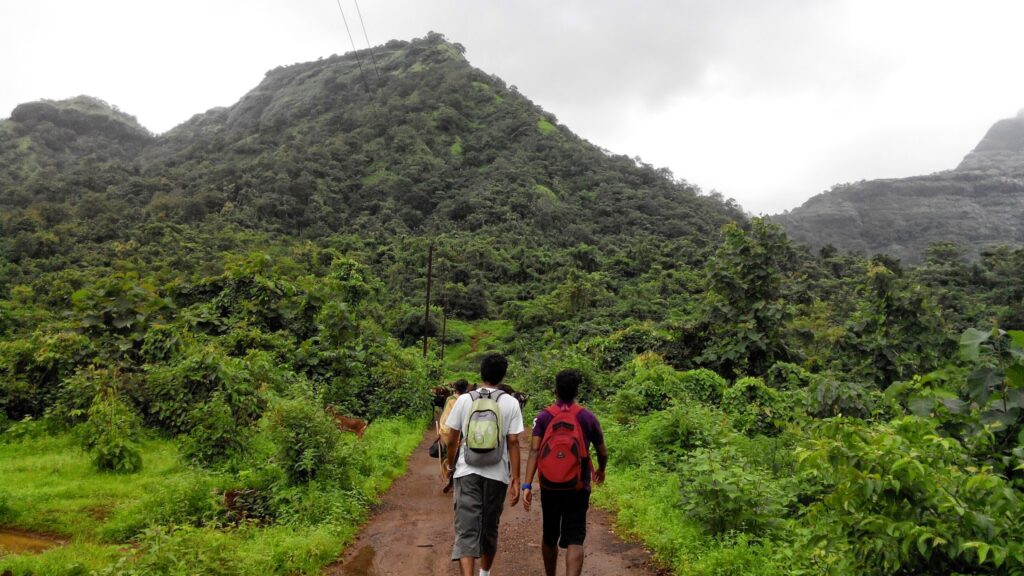 How to reach Prabalgad:
The location of the meeting was decided to be Panvel station so everyone took their respective trains and assembled at Panvel station at around 830 am, from there we went to the highway and took a tum tum to the base of prabalmachi. On the way, we stopped to have some Wada pav and tea and then continued with the journey to Thakurwadi which was the base of the trek at about 930am.
Trek to Prabalgad
The trail to Prabalgad was not that difficult and it was divided into 2 parts an easy road trek to Prabal machi which is a plateau from where we can either go to Kalavantin or Prabalgad. We walked on the path hoping it would rain for some time as it was getting very humid.
We walked taking in all the beauty of the surroundings and clicking the pictures as well we reached Prabal machi by 11 where we rested and had some snacks such as a sandwich and chips which we had brought from home and ordered for lunch at a cottage which is located on the Prabal machi plateau, after we got done with snacks we carried on with the trek we towards Prabalgad and asked for a guide as the road is through forests and chances of getting lost are more. 
The guide took Rs 300 as his charge, and then we started walking towards the top the climb was not that steep and it was casual and good for first-timers. We met a few trekkers who seemed lost in the forest and they followed us to the top, on the top of Prabalgad the view was breathtaking and luckily the fog just disappeared after a while and we got an awesome view of the surrounding area and also that of the Kalavantin fort.
We clicked photos on the top ate some Medu wada's and wafers enjoyed the view for some more time and the started with the descent. The descent was much difficult than the climb as we were mostly first-timers and getting down on the huge rocks with speed was somewhat difficult for some of us but somehow slowly we got down by helping each other in 3 hours whereas it had taken as just 2 hours to climb up. When we reached Prabalmachi again we went inside and hogged on the hot tasty food that was prepared for us which was kind of an unlimited thali for 100 Rs.
After we got done with lunch which was something around 430 some of us changed and then we started descending again from Prabalmachi to Thakurwadi.
We had to descend fast as it was getting late and also dark at the same time. By the time we had reached halfway, it had turned mostly dark thankfully for the flashlights in our phones we could reach the tum tum that was waiting for us at the base. We boarded the tum tum and headed to the station. We paid the tum tum guy and caught our respective trains and headed hope with good memories and a stronger and better team than before.
Grade: Easy
Tips: Chances of getting lost in the forest are high so getting a guide or traveling with an experienced group is advised. The whole trip just cost us not more than 250 Rs per head including food and travel from Mumbai to Panvel and also the cost of tum tum thus an economical trip at that. You can even make it an overnight trek by staying at Machi and doing Kalavantin Durg the next day. The villagers offer rooms to people at reasonable rates or if you have a tent you can camp on the machi itself.
To Read other trek articles Click Here
To watch Trek Videos Click Here