How to spend the weekend in the beautiful city of Delhi
How we Completed our Delhi trip in two days before heading to our North Indian adventures. Where we visited some beautiful places like Delhi, Agra, Kasol, Manali and Amritsar.
How to reach Delhi
We reached Nizzamudin from Mumbai by Garib Rath From here we stayed in Paharganj for two days Paharganj is very close to New Delhi Railway station. and a very good destination for street shopping Hotels is also available for reasonable rates and a very nice place to experience Delhi street food.
Places we visited on our Delhi Trip:
Paharganj
Connaught Place
Red Fort
Jama Masjid
Chandni Chowk
Parathewali Galli
Jantar Mantar
Majnu ka Tilla.
Our Delhi Trip
We kept our luggage at the hotel and left for Connaught Place. because of lockdown many places were shut. We get to see an amazing model of Georgian architecture here. It is a commercial business complex where there are many options for food and shopping
We had our brunch at a place called Jain Chawal. There are nice options for North Indian food here.
Day 1
From here we went to Agrasen ki Baoli, Agrasen ki Baoli is an amazing historical place. Where you can have an amazing time clicking photos. Baoli is a well and it has three levels, And it has a good crowd during the day.
From here we left for Red fort by a rickshaw, after reaching we came to know Red fort was closed. We saw the red fort from outside, crossed the road, and reached the lanes of Chandni Chowk.
The biggest wholesale market of Delhi was made famous because of Bollywood, Just like its name the place was colourful and shining and filled with the sweet aroma of food we passed the lanes to reach Jama Masjid.
Jama Masjid was built by Shahjahan and is one of the biggest Masjids in India If you are tired after visiting the Masjid you can have some amazing food at Parathewali Galli.
Evening in Delhi
By the time we left the place, it was evening, the environment had also become nice.
After which we took a bus to India Gate, after reaching there, we realized that due to lockdown we will need to see India gate from far. There was some mood off but the place was so nice that it did not last for long. In the nighttime, the India Gate was lit by the colors of the flag. There was a nice place opposite the India gate where roaming in the nice climate is worth it and with this our first day in Delhi got over.
The next day we went to Agra to know more about it you can Click here.
Third Day
On the third day, we visited a famous place in Paharganj called Radheshayam Chole Baturewala The localities will guide you easily to this place. They serve some amazing Chole Bature in a simple way with some tasty pickles. It's a small place but the Chole Bature here is amazing.
After that, we came to Jantar Mantar very difficult to understand astronomical instruments that are present here. This park shows us how developed our ancestors were, the park is very well maintained and there are around 13 instruments here. After an unsuccessful attempt at understanding the instruments, we left for Majnu ka Tilla.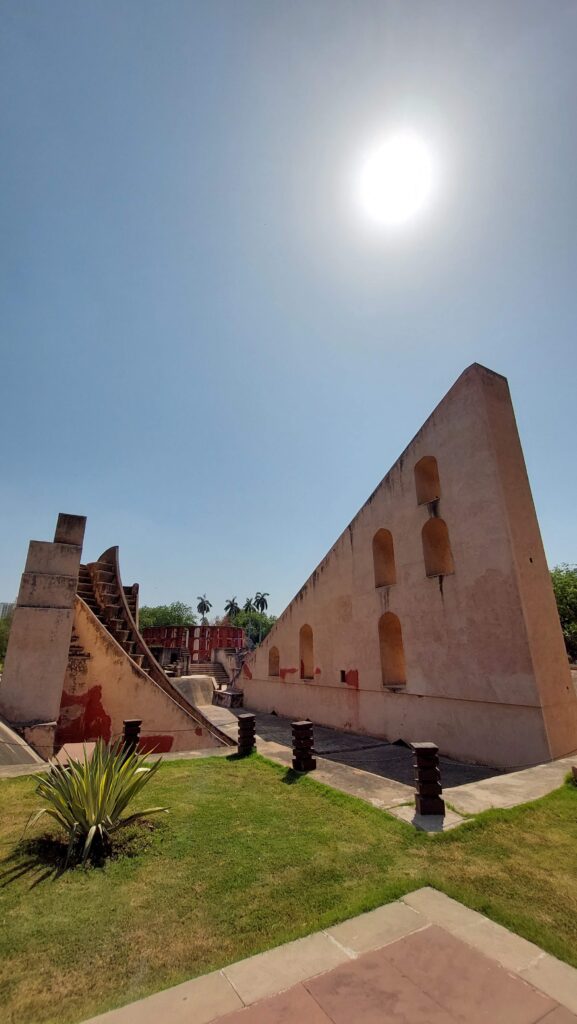 A mini Tibetan Village, you will experience Tibetan monasteries, culture, food shopping, and people. There are some amazing Tibetan cafes here where you can enjoy some amazing Tibetan Cuisine and relax. After experiencing the Tibetan culture at Majnu ka Tilla, we left for Kasol on a bus at night.
To know more about our Kasol trip Click here.
One day trips: Click here
Travel Videos: Click here